Bike Camping Chair - Prototype
designed by Garrett Belmont
Site updated July 21, 2009.
The objective is to design a lightweight chair that packs small. The inspiration for the chair is the Kermit Chair. The biggest advantage of my design is it packs at about 19" x 4" x 4.75". The biggest disadvantage is there will be more assembly required at the camp site. At the moment, this chair is not about quickness of assembly.

The first frame. The aggregation of screws are for study only. Ideally there will be no loose parts to lose in the wild. Note: This design has since shifted to the drawing below.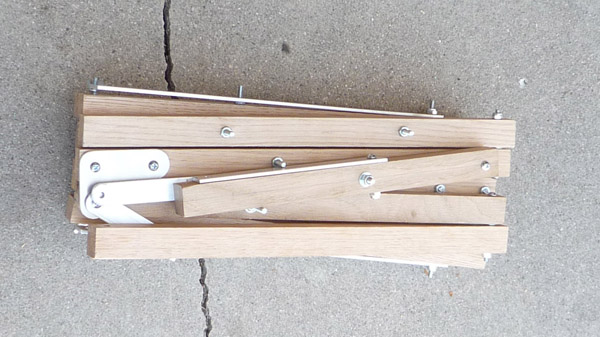 Drawing illustrates the continuous member from front leg through to the seat back. This member is removable without tools or loose parts such as wingnuts. The blue line shows location of optional arms.